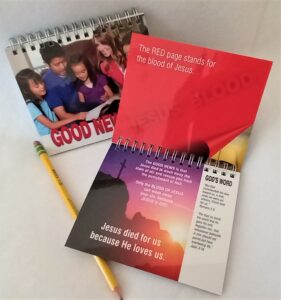 Like the standard Netcasters™ Viewbook, the Netcasters Junior Viewbook is a particularly useful tool for explaining the gospel. Designed with children in mind, this full-color, pocket-sized, spiral-bound flipchart uses a simplified version of the Netcasters gospel presentation coupled with the color scheme from The Wordless Book.
Flip from gold to black to orange and develop the glory of God in Heaven, the stain of our sin, and the just punishment for sin. Continue flipping from red to white to green to introduce the cleansing blood of Jesus, the gift of a new and clean heart, and the growth we can realize in Christ. The Netcasters Junior Viewbook is a great all-around help for personal witnessing and especially good for use in children's outreach ministries.
The Netcasters Junior Viewbook is in stock and available from the Revival Focus online store.