We are in California this month, and between meetings, we made a quick visit to San Francisco. While walking, we passed a particular Starbucks that brought back special memories.
Years ago when my son John was a toddler, we stayed in the prophet's chamber at the Hamilton Square Baptist Church. In downtown San Francisco, there are coffee establishments every few blocks, and to get John out, I would take him with me to Starbucks. I had trained him so that if I placed a gospel tract in his hand, he would hold it out to the nearest person. This produced some amazing conversations on the streets of San Francisco and especially in Starbucks. This is when "Starbucks Evangelism" began for us.
Coffee house evangelizing is a great method for our generation. If you look for someone not working at a computer, just sitting by themselves, you might have an opportunity for the gospel. If you sit close enough to converse, but not so close that it makes one uncomfortable, you can engage in a conversation that can be turned toward the gospel. This can open the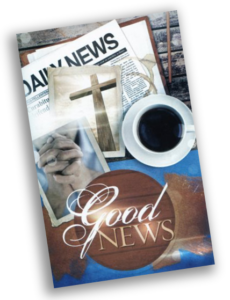 way for a witness of Jesus or at least the passing of a gospel tract before you leave. The Spirit will guide in these situations.
Good News, and a selection of other gospel tracts are available from the Revival Focus store.